More Harm Than Good
You need to choose the right warehouse management system for your business, because the wrong WMS can do more harm than good.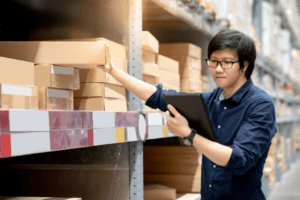 Here are some qualities to look for when you need to choose the right WMS for your warehouse:
1.     Simple Interface
When choosing a WMS, look for easy to follow menus and help screens that can improve usability. Make sure the WMS allows for simplified data entry and creation of template reports and charts. You might want a real-time dashboard view that gives users a single location to access all of their most critical data.
A WMS with a simple interface means that:
Users spend less time setting up and monitoring daily operations, and are able to quickly adapt.
New employees can also be up and running in a matter of hours instead of weeks.
All employees will be able to leverage the new technology to work smarter.
2.     Door-to-door Item Tracking
From the moment you receive an item into your warehouse until it leaves through the dock, your warehouse management system should track its every move. At a minimum, your WMS should follow:
Receiving and putaway
Order picking and order shipping
Cycle counting (inventory audits)
By having further insight into every step of a transaction, a company can optimize product stocking needs and employee efficiency to the fullest extent, therefore maximizing customer service.
3.     Scalability
Your company is going to grow and change. Your technology needs to grow and adapt accordingly. A warehouse management system is no exception to this rule. When looking at investing in a WMS, ask yourself:
Does your new warehouse management system work with your host system[1], or any host system that you might migrate to in the future?
Does it work with multiple brands and models of portable RF terminals, fork truck mounted RF terminals, and bar code label printers, scales and scanners?
Is the WMS used by a variety of distributor types and sizes?
Is the WMS built on open architecture, making it much more likely that the system can work with future applications and operating systems (rather than locking in a particular platform)?
Remember, an investment is only worthwhile if it continues to pay off. Make sure that the WMS you invest in is capable of working with your business in the future, not just your business as it is today.
4.     Performance Tracking
A good WMS will let you easily create reports and charts that let you know everything you need to know about your warehouse performance. From total lines picked to individual employee performance, your WMS should give you both the big picture and the nitty gritty details as you need them.
A truly exceptional WMS will let you set performance standards and will track warehouse performance against these standards. By tracking employee efficiency in the warehouse, you can start planning new ways to staff your warehouse for optimal productivity. You can set goals, create incentive programs, and create a positively competitive atmosphere in the warehouse.
5.     Free Upgrades and Outstanding Support
The vendor behind the WMS is as important as the application itself. Look for WMS vendors who have an outstanding reputation for implementation and support. When investigating WMS solutions, ask for a list of customer references. When talking to these customers, ask the following:
Did the WMS meet all expectations?
What kind of customer support is available?
Does the vendor provide customization work?
How frequently are software upgrades offered? Are upgrades and updates free of charge?
Does the WMS vendor actively solicit customer feedback?
Go out and visit multiple customer sites. See how the system performs in real life. If possible, make these visits without any vendor salespeople present, to ensure that you get an accurate assessment of the warehouse management solution.
In addition, a WMS vendor should be skilled at developing additional ERP integrations should it not have existing partnerships.
6.     Warehouse Focus
In many cases, WMS solutions are sold by companies whose primary business solutions aren't related to warehousing. This may enable those vendors to diversify their offerings, but it means that they don't really concentrate on warehousing as a niche industry.
A good WMS needs to be built around the warehouse. Core functions like receiving and picking have to be as perfectly structured as more advanced features like lot control.
7.     Optional Advanced Functionality
A warehouse management system's capabilities can range from very basic to extremely advanced. While you may only need basic WMS functionality now, as your business continues to expand and take on new business, it's good to know that your WMS has ala carte advanced features that you can opt for in the future.
Look for some of the following features as optional add-ons that are a part of a robust warehouse management solution: Carousel integrations, inventory adjustment, cycle count planning, front counter orders, incident tracking, lot control and serial number tracking, manifesting, paperless zone picking, replenishment, route shipping, slotting, and truck loading verification.
Want to know more?
PathGuide Technologies offers warehouse assessment surveys as a first step in its customer evaluation program for its Latitude Warehouse Management System.
For more information, or to discuss having a warehouse assessment conducted by a PathGuide expert, please contact us at 1-888-627-9797. Request a free demo to learn the benefits and how Latitude WMS can help your business succeed.
[1] It is essential that a WMS is fully compatible with an existing host business system (usually an ERP) so a company maintains the way it does business, without reinventing infrastructure, systems or procedures. When choosing a WMS, ask if it's compatible with Epicor: Prophet 21, Eclipse, Eagle and Acclaim, as well as Infor, Microsoft Dynamics, J.D. Edwards, Oracle, and SAP.